This Popular  Lecture Series is back and includes lectures on Tuesday and Thursday evenings! 
Tuesday and Thursday evenings in July and August we will host a remarkable presenter who will speak on an interesting topic that is historic and relevant. Come early and enjoy a delicious buffet meal.  Dinner is served at 6pm, followed by our lecture. Price to attend the dinner and lecture is $30.00, and must be paid upon reservation. Lectures can be attended for $15.00.
This series is made possible with funds from the Decentralization Program, a regrant program of the New York State Council on the Arts with the support of Governor Andrew M. Cuomo and the New York State Legislature and administered by the Lower Adirondack Regional Arts Council .
These lectures sold out each week last summer, so don't wait to register!
Men may attend if accompanied by a woman in July. Please call 518-668-9690 to make a reservation or make an online reservation by clicking the links below. 
---
July 6th, 2021
Sharon Burnstein
Build Your Life With Color and Imagination
Step Up – Stand Out – Break Through
7:00 – 8:30 pm
Have you ever asked yourself this question? Why is it that one person finds success,while another person finds excuses? Ask yourself, which person do you want to be?
Each of us is YOUnique and none of us the same, an ongoing masterpiece in progress. Our lives reflect the colors, stories and pictures that we paint in our life, through the life we lead,experiences, and our careers. Everyone is born with gifts, unique talents, interests … a blank canvas. It is up to each person to develop, cultivate and unleash them. This high energy, engaging, interactive talk will build YOU up to Step Up, Stand Out and Break Through.
————————————————
Build Your Life With Color and Imagination, with Sharon Burstein, is high-energy engaging and interactive. Sharon opens minds with innovative ways to connect more effectively with others crossing all cultures and developing meaningful ways to engage in more meaningful conversations. Rich in content, Sharon's motivational speech and presentation is fun and engaging. Everyone will learn simple techniques to infuse into your life that will help you create excellence with lasting impressions. Sharon motivates with her high
energy, words, messages, ways to build greater confidence and tips to achieve greater success in all aspects of your life. Sharon tremendously connects with her audience. Her strength is working with women helping build confidence step by step, communicate more effectively being YOUnique, understanding  your Leadership Image how to communicate and work to achieve more success in life.
Sharon's Bio:
Sharon Burstein is one of America's most in demand and
respected motivational speakers and is an award-winning author. She has worked with hundreds of thousands of people globally for more than 25 years inspiring and creating business and leadership images. Author of three award-winning books, Sharon has been recognized and received numerous National and International achievement awards. President-CEO of Sharon Burstein International consulting and speaking, her successful global career has included: owning and working with private and publically traded companies, International Marketing, Speaker, Manufacturer, Patent owner, Media Producer, and Educator.
Sharon created Leadership Summit America Symposium in 2016 and in 2017 launched the successful YOUniquely YOU! Putting Women First – The Power of Possible retreat
for women of all ages and walks of life.
---
July 8th, 2021
The Archaeology Dig at Wiawaka
Maureen Folk
The Chapman Museum
7:00 – 8:30 pm
During this program we will be talking about the archaeological investigations at the Wiawaka Center for Women. In 2010, a small porcelain room number was found in the garden bed by a volunteer.
Thus began the multi-year endeavor to understand the many things that have happened on this property as it transformed from an American Hotel to the women's retreat we know today.
---
July 13th, 2021
Kate Dudding
Georgia O'Keeffe Her Art, Her Home
7:00 – 8:30 pm

---
July 15th, 2021
Georgia O'Keeffe 
Impersonated by Claire Nolan 
7:00 – 8:30 pm
---
July 16th, 2021
Musical Performance by Red Canna
7:00 – 8:30 pm
Join us for this beautiful performance by these well known and popular performers. You will enjoy this evening's musical performance lakeside under our tent.
Red Canna features:
Elizabeth Kasius Woodbury – Piano 
Bobby Kendall – Bass
Mitsuko Suzuki – Violin 
---
July 20th, 2021
Ted Caldwell
Charles Lindbergh
7:00 – 8:30 pm
This image is Ted Caldwell's grandfather, Harold Bixby and as he is standing behind Charles Lindbergh.  The date of the photo is February 13, 1928. Lindbergh returned to St. Louis for the first time since his historic flight.
Ted Caldwell's family came to what became the Town of Bolton in 1795.  A retired builder and educator Ted is currently a Town of Bolton Co-Historian and serves on the Board of the Historical Society of the Town of Bolton.
---
July 27th, 2021
Callie Raspuzzi 
Bennington Museum 
7:00-8:30 pm

The highs and lows of love and heartache, from Victorian wedding gowns to scandalous tales of sexual harassment.
Marriage isn't what it used to be, but what did it really used to be?  In Colonial America, marriage was largely a matter of property and reproduction. Romantic love as we know it today was not considered necessary to wedded bliss until the Victorian era. Some same-sex couples quietly cohabited in the Green Mountains in plain sight during the nineteenth century, although their relationships were not recognized as "marriage" until a century later. Domestic abuse, sexual harassment, and scandal have been tabloid fodder since the earliest days of Vermont's statehood.  This exhibit will explore the highs and lows of love and heartache, from gorgeous Victorian wedding gowns, to scandalous tales of sexual harassment. Despite changing social customs, we may find that human nature has changed very little over the years, although the nature of marriage continues to shift.
Callie Raspuzzi has been the Collections Manager at the Bennington Museum for 16 years. She attended Colgate University and has a Master's degree in Museum Studies from the George Washington University. 
---
July 29th, 2021
S. Gwenne Rippon and Louise Rourke
Come be inspired!
Lake George.  Two Women.  Two Amazing Feats. 
7:00 -8:30 pm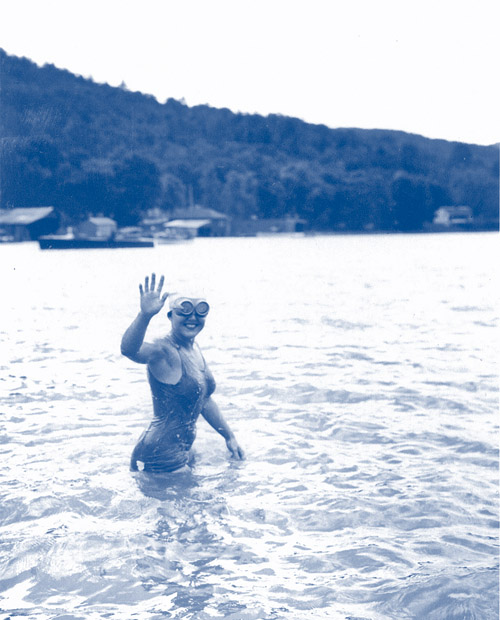 Come be inspired!
Lake George.  Two Women.  Two Amazing Feats.
In 1958, Diane Struble became the first person to swim Lake George, bringing national attention that helped launch Lake George into a major tourist destination.  She was a self-made athlete at a time when women were not often thought of as such.
In this program, Gwenne Rippon (Diane's daughter and author of Called by the Water:  When Diane Struble Swam Lake George, published by the Lake George Historical Association) shares the story of how she discovered the fascinating details of her mother's swim:  How a person, a place and an idea had come together to create a magical and unforgettable moment in the history of Lake George.
Joining Gwenne for the second half of the program will be Louise Rourke (author of Called by the Water:  The Swim to End Polio, published by the Lake George Historical Association) who was inspired by watching Diane Struble accomplish her feat.  In 1958, Louise was a four-year-old little girl who had contracted polio as an infant.  In 2018, she swam a relay of Lake George with Bridget Simpson and raised a remarkable $120,000 to eradicate polio worldwide.
Swimming has always been Louise's refuge and she is keenly aware of the privilege of being able to swim in Lake George's cold, clear, drinkable water when many people worldwide have no clean water to drink.
Photo Credit: Greta Hochsprung
Diane Struble and Louise Rourke are featured in a recent issue of Women Swimmers on Lake George. LOCALadk Magazine – LOCALadk Spring 21 (uberflip.com). 
---
August 3rd, 2021
Carol McCarthy
J.S. Wooley Visits the Sagamore Hotel
7:00-8:30 pm

J.S. Wooley, the photographer, was a world traveler. One of the locations he visited was the elegant Sagamore Hotel in Bolton Landing, NY. Please join us as we enjoy the rich history, stories, and historical significance of the Sagamore through the lens of J.S. Wooley in his travels.Carol McCarthy will take us on a "tour" of the History of the three Sagamore Hotels, originally built in 1883. The elegance, glamour, tragedies, and struggles of this magnificent property through the years will be presented through a PowerPoint presentation which includes a wealth of vintage photos.
Bio: Carol McCarthy is a Professor Emeritus in the Business Administration Department of Hudson Valley Community College in Troy. Ms. McCarthy is a strong women's advocate and serves on the Board of Wiawaka. She is a frequent lecturer on the History of Millionaires' Row and has been fortunate enough to live on two of the Millionaires' Row properties. Carol has spent many years enjoying the splendor of the Sagamore Hotel.
Get your tickets early!
Click here for tickets
---
NEW DATE ….. RESCHEDULED UNTIL TUESDAY AUGUST 31st!
Sheryl Faye
7:00 – 8:30 pm

Amelia Earhart- Pioneer in Aviation
Amelia Earhart's fearless, adventuresome spirit leads to hair-raising rides down her homemade roller coaster, and she is enthralled with the wonders of the new "flying machines" during a family vacation to the Iowa State Fair.
As she matures, she is fulfilled by her work as a nurse's aide and begins to consider a career in medicine. This idea "flies out the window," however, when she pays a pilot $1.00 to take her up for a short "hop" in his plane. From then on, the science of aviation becomes her passion as flying becomes her career.
She follows her dreams with an indomitable spirit, and her story will inspire everyone to pursue their own budding interests, whatever they may be, and will also reinforce the importance of family, respect for others and individuality.
These presentations sold out quickly. Reserve your tickets today.
---
ADDITION to our Thursday Night Lectures:
NEW Thursday Evening Music 
Slow Jam by the Camp Fire
7:00  – 8:30 pm
Julie Jenne
Call the Front Desk to Register
Space is limited! 
When: Thursdays, August 12th and 19th at 7:00 pm.
Bring: instruments and voices AND your own music stand.
We will provide a song packet full of familiar tunes!
Do you play an instrument? Do you like to sing? Can you shake a tambourine?
Come join in as Wiawaka offers a music making
gathering for all to enjoy jamming together! All levels are
welcome!
Bring your voice, guitar, ukulele, drums or any
instrument you enjoy, and be ready for a fun evening!
Sign up sheet will be at the Main Desk in Fuller House.
Each Night will be led by Julie Jenne, retired music
educator. There is small fee of $10 that is a donation to Wiawaka.
---
August 17th, 2021
Katrina Trask's upcoming 100th anniversary
Katrina Trask Presentation
Rumara Jewett
7:00 – 8:30 pm
In  October 22, 1908, Katrina Trask deeded the property that would become Wiawaka Women's Retreat to Mary Wiltsie Fuller of Troy, NY for "a bunch of May flowers to be paid on the first May day following this date."  Spencer Trask (husband of Katrina) and their friend George Foster Peabody were witnesses to the deed.   Miss Fuller, who had "established and developed" Wiawaka Holiday House as a retreat for working women in 1903, would continue there until her death in 1943.
The Trasks' Yaddo estate would later become the prestigious artist residency that it is today. As we approach the 100th anniversary of Mrs. Trask's death in January of 2022, we listen to readings of her words and consider her extensive influence.
Click here for tickets 
---
August 24th, 2021
"Diamonds And Rust"….and other Gems of Joan Baez- SOLD OUT!
Julie Jenne
7:00 – 8:30 pm



Take a musical tour of he songs of an icon, performed by Julie Jenne on her guitar. Hear masterpieces ranging from her formative years of protest songs, to obscure folk songs, as well as Woodstock and the "Bob Dylan" years. Enjoy a musical collage of Joan Baez spanning decades of her memorable music and the impact she had on the world of her time.
Formerly from Central New York, Mrs. Julie Jenne recently retired from teaching in the South  Colonie Central School District. During that time Mrs. Jenne had the pleasure to direct Middle School Choruses, as well as teach General  Music (including piano and guitar) and assist as the Music Director for the school's musical productions.
Mrs. Jenne has quite an extensive background as a Music Educator, having taught at the Elementary, Junior High, High School and College level while earning  her Masters Degree in Music Education at Syracuse University. During her years at these levels Mrs. Jenne taught Choral Music, Vocal Lessons, General Music and was the Director and Producer of over 30 musical productions.  Mrs. Jenne also performed with local theatre companies in the Syracuse area. While in Central New York she directed Vocal Jazz Ensembles that performed at Festivals at Syracuse University as well as LeMoyne College and NYSSMA Vocal Jazz Festivals. She directed one of the few Junior High Vocal Jazz Ensembles in the State of New York. Mrs. Jenne has guest conducted the High School Vocal Jazz Ensemble at the Rensselaer All-County Music Festival in January 2015, as well as The Columbia County All-County Jazz Festival in 2011 and again in 2013.
Mrs. Jenne's knowledge of the Vocal Jazz Idiom is a result of having a Vocal Jazz Concentration at Syracuse University, including singing in the well known SU Vocal Jazz Ensemble "Windjammers". Mrs. Jenne acquired training in this genre under the instruction of Professor Diana Spradling at Syracuse University and later at Western Michigan University, where she attended an intense Vocal Jazz Camp as a vocalist and a guest conductor under the direction of Dr. Steve Zegree and Mrs. Diana Spradling. Mrs. Spradling has toured nationally, giving workshops on the Vocal Jazz Idiom and has published a book on the Vocal Jazz Voice. She was also instrumental in Mrs. Jenne's Vocal Jazz Adjudicator Certification at the New York State All-State level, through NYSSMA (New York State School Music Association). Mrs. Jenne has been invited to adjudicate many solo festivals over the years, and is currently a private instructor of voice, piano, guitar and ukulele at The Glens Falls Music Academy, as well as in her home studio.
Mrs. Jenne is happy to have had several new opportunities including working with the Stillwater High School musicals as Music Director, serving as one of the worship leaders (2014-2019) at Calvary Family Life Center in Glens Falls, assistant directing Sing! Sing! Sing! Senior Citizens Chorus at The Glens Falls Senior Center ( formerly at Queensbury Senior Citizen's Center), recently joining the Adirondack Voices Chorus and performing with The Lake George Community Band as their solo vocalist!