This Popular Women's Lecture Series is Back! 
Women are dynamic, inspiring and beautiful!
Tuesday evenings in July and August we will host a remarkable woman who will speak on an interesting topic that is historical and relevant. Come early and enjoy a delicious buffet meal.  Dinner is served at 6pm, followed by our lecture. Price to attend the dinner and lecture is $30.00, and must be paid upon reservation. Lectures can be attended for $10.00.
These lectures sold out each week last summer, so don't wait to register!
Men may attend if accompanied by a woman in July. Please call 518-668-9690 to make a reservation or make an online reservation by clicking the links below. 
---
June 30th, 2020
Discovering Jane Austen: A Woman of "Sense and Sensibility"
Catherine Golden

It is a truth universally acknowledged that the fiction of Jane Austen, deeply rooted in her time, resonates in our time. Beginning with Austen's biography, this proposed talk for the Wiawaka Women's Lecture Series, based on teaching Austen on location in England, will present what we know and do not know about Austen's brief life (1775-1817). In her six published novels, Austen leads us into Regency ballrooms, country estates, and the English countryside to teach us much about human emotions. We will follow in Austen's Regency footsteps to discover the life and fiction of an author, who, much like the title of her first novel, wrote with sense and sensibility. The presentation will be amply illustrated with maps, period artwork, and photographs of the places Austen set her memorable novels.
Catherine J. Golden is professor of English and the Tisch Chair in Arts and Letters at Skidmore College, Saratoga Springs, NY. She is author of Serials to Graphic Novels: The Evolution of the Victorian Illustrated Book (2017), Posting It: The Victorian Revolution in Letter Writing (2009), and Images of the Woman Reader in Victorian British and American Fiction (2003). She has also edited or coedited five additional books on topics ranging from Charlotte Perkins Gilman to Victorian illustration. She is a regular contributor to the British arts journal Illustration Magazine. She has lectured widely on Jane Austen and Victorian literature and culture at national and international conferences and venues including the Smithsonian, the Hyde, Ventfort Hall, the Fort Orange Club, Academy for Lifelong Learning, the National Museum of Dance, Northshire Bookstore, and the St. Andrew's Society of Albany.
Click here to make your reservation.
---
July 7th, 2020
Katrina Trask Gateway Presentation
Rumara Jewett
The Katrina Trask Gateway Memorial in Congress Park was completed the year Mrs. Trask died, 1922, under the supervision of George Foster Peabody.  The Gateway featured an ornate wrought iron gate that originally led to the Katrina Trask House, a center for women's activities.  The Saratoga Springs Department of Public Works completed a major renovation in 2019.  We will look back at the creation of this Memorial in a presentation that will include readings from Mr. Peabody and Mrs. Trask.
Click here to make your reservation
---
July 14th, 2020
Becoming a Tourist in your Own Town
Peg Breen

Be A Tourist in Your Own Town" will encourage people to get out of their routines and explore their community. The presentation highlights interesting and important  architectural landmarks in the boroughs outside Manhattan. People often think of New York City as midtown Manhattan and skyscrapers. The talk will introduce them to highlights throughout the City.
Peg Breen is President of the New York Landmarks Conservancy, a 47 year-old non-profit organization dedicated to preserving New York's architectural heritage. It is one of the oldest and largest preservation organizations in the United States. The Conservancy has loaned and granted more than $53 million, and provided thousands of hours of technical assistance, to individual homeowners, cultural and non-profit institutions, businesses and landmark religious institutions. That has contributed to more than $1 billion in preservation projects throughout New York City and State. The Conservancy also advocates for preservation at the local, state and national levels of government.
After 9/11, Ms. Breen helped organize the Lower Manhattan Preservation Fund, which gave grants to owners of historic buildings damaged on that day. The Conservancy also served as a consulting party to redevelopment at Ground Zero. Ms. Breen helped lead successful efforts to preserve the "Survivors Staircase," which is featured in the memorial museum.
The U.S. State Department sent Ms. Breen abroad as a representative of New York City for 9/11 commemorations at U.S. Consulates. She spoke in St. Petersburg, Russia in 2002 and in Vancouver and Victoria, British Columbia in 2003.
Ms. Breen co-sponsored preservation conferences with the U.S. Consulate in St. Petersburg in March 2005 and June 2001. The Consulate also invited her to speak in March 2011 at an international conference on "Preserving Cultural Heritage." She also lectured in Tbilisi, Georgia in 2015 as a guest of the U.S. Ambassador to Georgia.Ms. Breen was also the keynote speaker at an international preservation conference in Havana, Cuba in April 2000 and keynoted the 2013 Association for Preservation Technology (APT) Conference.
She is on the Board of the International African American Museum in Charleston, S.C., the Carey Center for Global Good, Save Ellis Island and Preservation Action, a national lobbying organization. She has also served on the Boards of the Museum of the City of New York and the State Theater at Lincoln Center. Prior to joining the Conservancy, Ms. Breen held government and media positions.
Click here to make reservation
---
July 21st, 2020
The Life of Grandma Moses
Deana Mallory 
Bennington Museum

Anna Mary Robertson "Grandma" Moses is one of – if not the – best known American folk artists of the 20th century. In the 1950s, she was a household name, and she continues to have admirers in the art world and in the general population throughout the world. Her fame is the result of a number of factors, including good timing, good marketing, and good painting. In this illustrated talk, you will learn about Moses' early life, her discovery as an artist at the age of 78, and the reasons behind her enduring popularity. You will also discover how Bennington Museum came to be so closely associated with Grandma Moses.
Deana Mallory is the Director of Public Programs at Bennington Museum, in Bennington, Vermont. She holds a Bachelor's degree in anthropology from the State University of New York at Binghamton and a Master's degree in education from St. Rose College in Albany, NY. She has been with Bennington Museum since 2005 and also serves as its Deputy Director.
Click here to make your reservation
---
July 28th, 2020
History of the Sagamore
Carol McCarthy

The history of the Sagamore is historical and incredible.  It is truly a historic and fascinating story.  Carol will share the amazing history of how this historic treasure has been of major significance to Lake George. 

Click here to make your reservation
---
August 4th, 2020
Women's Suffrage Movement
Sandi Rhodes

Join us for this presentation that celebrates the 100th year of the women's suffrage movement. It will be an opportunity to hear first hand how these courageous and inspiring women made history! You will want to hear first hand how his courageous women made a difference. 

Click here to make your reservation
---
August 11th, 2020
Eleanor Roosevelt – The First Lady of The World
After suffering through an unhappy childhood, and losing her parents and one of her brothers., he figured out where she fit in and could make a difference. She grew up and became an American politician. The longest-serving First Lady of the United States. She was the first presidential spouse to hold press conferences, write a syndicated newspaper column, and speak at a national convention. She advocated for expanded roles for women in the workplace, the civil rights of African Americans and Asian Americans, and the rights of World War II refugees. She became one of the first delegates to The United Nations. One of the top ten most admired people of the 20th century. "…as individuals we live cooperatively, and, to the best of our ability, serve the community in which we live…our own success, to be real, must contribute." – Eleanor Roosevelt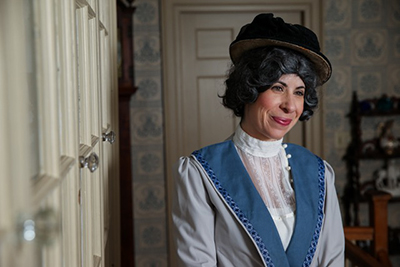 Click here to make your reservation
---
August 18th, 2020
Finding A Women's Place: The Story of a 1970's Feminist Collective in the Adirondacks
Lorraine Duvall
Award-winning author Lorraine Duvall's recent book tells the history of a women's commune in the Adirondacks, near Lake George. In 1974 seven women with their eight children left their jobs, friends, and families to live together communally on a 23 acres rustic resort in Athol, New York. They called their new home A Woman's Place. They were inspired by other feminists to take this independent action and leave behind the restraints of the patriarchal society of the 1960s and '70s.
Click here to make your reservation
---
August 25th, 2020
Frank Lloyd Wright: The Great American Architect
Betsy Bray
During his career, Frank Lloyd Wright designed iconic public and private structures including Fallingwater, Guggenheim Museum and the SC Johnson Wax Building. Betsy will talk about Frank Lloyd Wright's extraordinary career through her photos. She will share her experiences working with the Frank Lloyd Wright Building Conservancy.
Betsy is a self described Frank Lloyd Wright enthusiast having visited many of his buildings. She is a member and a volunteer for the Frank Lloyd Wright Building Conservancy, based in Chicago. Betsy received the Conservancy award at the FLWBC conference in Los Angeles. Betsy was a student at Yestermorrow in Waitsfield, Vermont, a building and design school, where she designed and learned to build two homes: one a vacation home in Vermont and one a primary residence in Connecticut. Betsy works with Cape Cod Modern House Trust as a tour registrar and guide.
Click here to make your reservation

---
---