This Popular Women's Lecture Series is Back! 
Women are dynamic, inspiring and beautiful!
Tuesday evenings in July and August we will host a remarkable woman who will speak on an interesting topic that is historical and relevant. Come early and enjoy a delicious buffet meal.  Dinner is served at 6pm, followed by our lecture. Price to attend the dinner and lecture is $30.00, and must be paid upon reservation. Lectures can be attended for $10.00.
These lectures sold out each week last summer, so don't wait to register!
Men may attend if accompanied by a woman in July. Please call 518-668-9690 to make a reservation or make an online reservation by clicking the links below. 
---
Postponed until 2021
We will celebrate Katrina Trask's upcoming 100th anniversary – Stay Tuned for more updates on this exciting celebration
Katrina Trask Gateway Presentation
Rumara Jewett
The Katrina Trask Gateway Memorial in Congress Park was completed the year Mrs. Trask died, 1922, under the supervision of George Foster Peabody.  The Gateway featured an ornate wrought iron gate that originally led to the Katrina Trask House, a center for women's activities.  The Saratoga Springs Department of Public Works completed a major renovation in 2019.  We will look back at the creation of this Memorial in a presentation that will include readings from Mr. Peabody and Mrs. Trask.
---
July 21st, 2020
The Life of Grandma Moses
Deana Mallory 
Bennington Museum

Anna Mary Robertson "Grandma" Moses is one of – if not the – best known American folk artists of the 20th century. In the 1950s, she was a household name, and she continues to have admirers in the art world and in the general population throughout the world. Her fame is the result of a number of factors, including good timing, good marketing, and good painting. In this illustrated talk, you will learn about Moses' early life, her discovery as an artist at the age of 78, and the reasons behind her enduring popularity. You will also discover how Bennington Museum came to be so closely associated with Grandma Moses.
Deana Mallory is the Director of Public Programs at Bennington Museum, in Bennington, Vermont. She holds a Bachelor's degree in anthropology from the State University of New York at Binghamton and a Master's degree in education from St. Rose College in Albany, NY. She has been with Bennington Museum since 2005 and also serves as its Deputy Director.
Click here to make your reservation
---
September 1st, 2020 – Rescheduled Date!!
Women's Suffrage Movement
Sandi Rhodes

Join us for this presentation that celebrates the 100th year of the women's suffrage movement. It will be an opportunity to hear first hand how these courageous and inspiring women made history! 

Click here to make your reservation
---
August 11th, 2020
Eleanor Roosevelt – The First Lady of The World
After suffering through an unhappy childhood, and losing her parents and one of her brothers. She figured out where she fit in and could make a difference. She grew up and became an American politician. The longest-serving First Lady of the United States. She was the first presidential spouse to hold press conferences, write a syndicated newspaper column, and speak at a national convention. She advocated for expanded roles for women in the workplace, the civil rights of African Americans and Asian Americans, and the rights of World War II refugees. She became one of the first delegates to The United Nations. One of the top ten most admired people of the 20th century. "…as individuals we live cooperatively, and, to the best of our ability, serve the community in which we live…our own success, to be real, must contribute." – Eleanor Roosevelt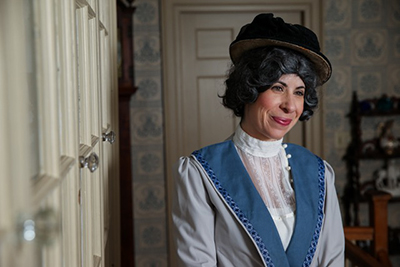 Click here to make your reservation
---
August 18th, 2020
Finding A Women's Place: The Story of a 1970's Feminist Collective in the Adirondacks
Lorraine Duvall
Award-winning author Lorraine Duvall's recent book tells the history of a women's commune in the Adirondacks, near Lake George. In 1974 seven women with their eight children left their jobs, friends, and families to live together communally on a 23 acres rustic resort in Athol, New York. They called their new home A Woman's Place. They were inspired by other feminists to take this independent action and leave behind the restraints of the patriarchal society of the 1960s and '70s.
Click here to make your reservation
August 25th, 2020
History of the Sagamore
Carol McCarthy

The history of the Sagamore is historical and incredible.  It is truly a historic and fascinating story.  Carol will share the amazing history of how this historic treasure has been of major significance to Lake George. 

Click here to make your reservation
---